Beacon Monitor-2 at JN1SDD by SoftRock, Python and Raspberry Pi 3
Monitoring the IARU/NCDXF International Beacon Project beacons 24/7.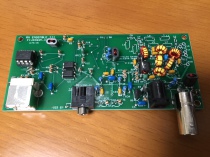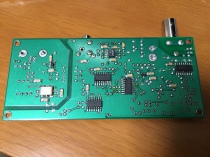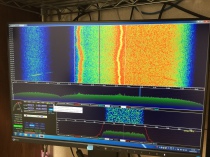 System is off for a while: Currently, the apartment house is under construction and detached my antenna from the building. I hope it will be back with a new antenna in months. (Mar. 17, 2018)
Beacon Monitor 2 Project: Recently, switched from the former Monitor-1 system. Monitor-2 is rewritten by 'pure' Python and provided as open source! You can deploy your own beacon monitor by simply downloading the software, and run it on your Raspberry Pi 3 and SoftRock SDR receiver. Source code is located here (GitHub). Latest development status can be found on the Facebook page. (Nov. 24, 2017)
First User: This morning, a ham in the UK mailed me and he said his beacon monitor started to work. He mentioned he was using an Ubuntu PC, a SoftRock RX Ensemble II HF Receiver, and an onboard sound device. (The troubleshooting document came from discussion with him in fact.) Thanks for the report! (Nov. 27, 2017)
News Story: Tobias Wellnitz (DH1TW) has kindly introduced my beacon monitor in his web site. (Jun. 4, 2010)
Location: Kanagawa pref., Japan. PM95rm, Lat. 35°30' N, Long. 139°25' E
Antenna: 5 meters horizontal wire at 8 meters high. No antenna tuner, coupler or preamp. Maintains one meter distance from a ferroconcrete building (25 meters high).
Receiver: SoftRock v9.0 Lite+USB Xtall with Electronically Switched v9.0 HF BPF. (photo)
Sound Card: Behringer UCA202 (TI PCM2902). Using 2 channels (I/Q) at 16 kHz sampling rate.
Monitoring System: Original design written from scratch. Implemented by Python, NumPy and SciPy, running on Raspberry Pi 3.
Other Beacon Monitoring web pages are listed on the International Beacon Project Monitors site. This monitoring site is inspired by Faros the great software which was written by Alex Shovkoplyas, VE3NEA and also using the original representation by Peter Ralph Jennings, VE3SUN.
Monitor-1 Results: Past PNG files are archived here.