Beacon Reception at JN1SDD by SoftRock, Octave and Raspberry Pi 2
Reception of the IARU/NCDXF International Beacon Project beacons.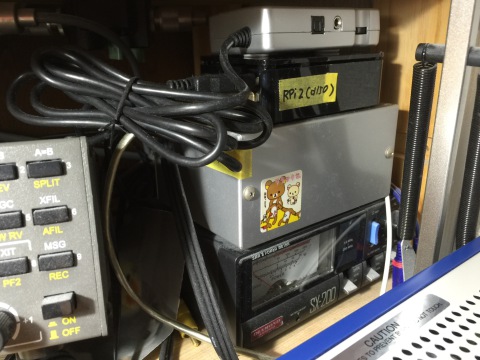 Finally migrated onto the brand-new Raspberry Pi 2. I hope it runs stably. (May 6, 2015)
News: Tobias Wellnitz (DH1TW) has kindly introduced my beacon monitor in his web site (or blog). Thank you, Tobias! (Jun. 4, 2010)
Location: Kanagawa pref., Japan. PM95rm, Lat. 35°30' N, Long. 139°25' E
Antenna: 5 meters horizontal wire at 8 meters high. No antenna tuner, coupler or preamp. Maintains one meter distance from a ferroconcrete building (25 meters high).
Receiver: SoftRock v9.0 Lite+USB Xtall with Electronically Switched v9.0 HF BPF. (photo)
Sound Card: Behringer UCA202 (TI PCM2902). Using 2 channels (I/Q) at 16 kHz sampling rate.
Monitoring System: Original design written from scratch. Implemented by GNU Octave running on Raspberry Pi 2 (900 MHz quad-core ARM Cortex-A7).
Other Beacon Monitoring web pages are linked from the International Beacon Project Monitors site. This monitoring site is strongly inspired by Faros the great software which was written by Alex Shovkoplyas, VE3NEA and also using the original representation by Peter Ralph Jennings, VE3SUN. Thank you very much.